Bienvenue sur ma page!!! J'espère que vous aimerez votre séjour. N'hésitez surtout pas à m'envoyer vos ! À bientôt!
Welcome to my Web page!!! I hope you will enjoy your stay. And please, don't hesitate to send me your !
No reproduction allowed of any image on this site without permission. / Reproduction interdite sans permission des images contenues sur ce site.
© Myriam Van Wassenhoven 1999-2006
Best viewed with Microsoft Internet Explorer with a resolution of 1024x768 / Site conçu pour Microsoft Internet Explorer 4.0, résolution 1024x768
Generously hosted by The Bryce-Alive! Network
---

Support freedom

Banner made by GeorgeD and available at
Renderosity
In rememberance of the tragedies
at the World Trade Center, New York,
and the Pentagon, Washington, D.C.

May all find peace and comfort.
En souvenir des tragédies survenues
au World Trade Center, New York,
et au Pentagone, Washington, D.C.

Puissent tous trouver la paix et le réconfort.
---

---


In memory of
Deborah C. Bishop
"BryceTech"
---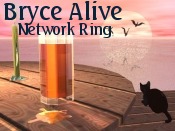 Previous 5 Sites Skip Previous Previous Next
This
RingSurf
Bryce Alive Network Ring
Net Ring
owned by .
Skip Next Next 5 Sites Random Site List Sites